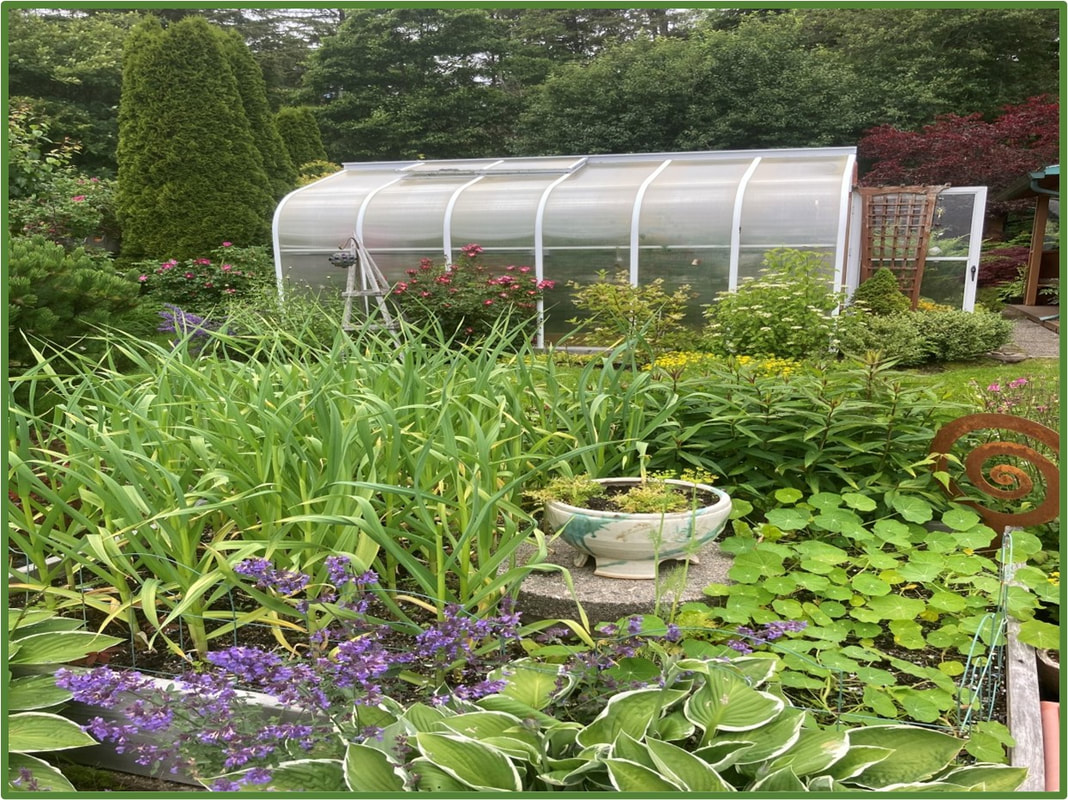 Welcome to the 2022 Garden Tour
July 9, 2022
GARDEN DELIGHTS
The Lyrical, the Whimsical, the Practical, the Experimental
A garden for every taste!

Tickets are $ 20 per person

Credit card ticket purchases are available anytime, only online by going to TICKETS.

Ticket/wristband purchases available on tour day at garden #6 starting at 11am.
Cash or check only No credit cards accepted. Correct change appreciated.
​
The event brochure should be available for download and printing by 5 pm July 8, 2022

The brochure will be a 2-page double sided document for printing.
Fold each page in half vertically on the long side with numbers 1 & 3 on the front of each page. Insert 3 into 1.
If you have problems, you can take a picture of the brochure at any of the gardens.

Show proof of purchase at any garden and receive your wristband.
Please have wristband visible for docents when entering gardens.

Garden can be visited in any order you wish.

Carpooling is a fun way to do the tour and limits parking congestion.

Bathrooms are not available at the gardens!

Garden Artisans will be selling beautiful handmade items to accent you home and garden!

Have questions or feedback? Contact Kristi Hooton at 907 209 5747, hoot4kristi@semicro.com

THANK YOU FOR VISITING OUR WEBSITE AND THIS PAGE!





---
1. Address: DM
Hosts:

The owners bought this one-fourth-acre Valley lot in late 2019, with the intent of growing as much food as possible, for subsistence and for market. They are mostly growing annual vegetables in raised beds, using hoop houses, sheet plastic and row covers to optimize growth. Just finished this March, their solar-designed greenhouse, equipped with supplemental light and heat, allows for early summer crops and successful fruiting even in poor weather. With controlled conditions, year-round greens-growing is also a possibility. But most importantly, it is equipped with a hammock for lounging on those sunny winter days.




---
2. Address: MND
Host:

As an aspiring gardener, these owners faced their first summer at their house looking at a wanton yard and garden overgrown with alder, spruce, salmonberries, fireweed, bachelor-buttons, bishop's weed, horsetail, etc. Over the course of four summers, it is now well on its way to becoming their own little suburban flower and vegetable "happy place." With the expertise of Ed Buyarski, tackling the largest garden bed in front, they gained knowledge and confidence to construct two more raised perennial beds. Several other projects took shape over the next couple year and in the areas of the yard where they struggle to commit, container gardening offers the flexibility they need. This garden has been designed to be a somewhat low maintenance garden that allows the owners play time and allows for gardening expansion as time and needs arise.


Garden Artisans will be selling their works at this garden:
​
Alaskan Heart Designs
Toni Hinckle 907-723- 6638

Sunrise Inspirations
Kim Peterson: 907-465-7762



---
​3. Address: LGJN
Host:
​
This garden owner enjoys landscaping as much as gardening and has a love for rocks, particularly black shale. Anything that is flat on parallel sides that can be dry stacked for bordering a raised bed finds is hauled and relocated to this garden. Her favorite flowering plants are Begonias. Thirty years ago, her mom bought six rose form Begonias, and she has successfully overwintered the tubers in the crawlspace, increasing the number to over fifty. The gardens are a mix of perennials and annuals, bought and indigenous plants that like the valley. Half of the plants are known by (common) name. Hopefully, garden visitors will help identify the rest!





---
​​4. Address: NDL
​ Host:
​
These garden owners are now both retired and enjoy working in the garden. They have a natural division of labor, and the process is working well. They have lived in this house for twenty years. Over the years, they have been able to transform the property from a rental unit which used the front area for parking and the grey muck which was the rest of the lot into a yard and garden. The soil is now rich in compost and worms which supports a wide variety of plants.
The front planting area is now resplendent with Himalayan blue poppy, peony, Aquilegia or columbine, bearded Iris, primrose, lilies, bleeding hearts, Hosta, Egyptian walking onions, Alium giganticum, rose, barberry, rhubarb, and a few volunteers. The planted area around the house includes Delphinium, Hosta, Allium giganteum, azelea, lillies galore, spirea, rose, Aquilegia, Hydrangea, and a few volunteers. The patio has a live roof of Arctic Kiwi Vines that produce fruit and shade. The back fence has Hosta, bachelor-buttons, fireweed, and EWO. accompanied by small band of raspberries.

​
---
5. Address: GDR
Host:
​
On the western shore of Auke Lake, this garden began development in 1980 with transplanted perennials from their nearby cabin on the Back Loop. Those plants were established from starts generously shared by John O'Brien an AMHS shipmate and former board member of the American Primrose Society. In the 80's and early ninety's David and Margaret of Landscape Alaska were instrumental in creating lasting raised beds and visual joys in both shaded and sunny areas. When visiting you will see Japanese Maples, Geum, columbine, larkspur, monkshood, roses, Ligularia, Astilbe, hops, Delphinium, varieties of Iris, Primula and lilies, Hosta, and more. The owner likes loosestrife and foxglove so expect a scattering of these bad boys. The vegetable garden has rhubarb, garlic, walking onions, squash, lettuces, chard, radishes, potatoes and more.



​
---
6. Address: AL
Hosts:
​
When I moved to Juneau in 1996 with my young family, I fell in love with my log house in the woods. Right way, I tended to the raised beds around the house, cut the tree limbs to let light in, and mowed the grass. Wild irises, lupine, bunch berry, deer leaf, twisted stalk, blueberry bushes, and weedy grass inhabited the front yard. Eventually I convert the raised beds to rock bordered perennial and annual beds. I failed miserably with the grass; acidity, lack of lime, and rising spruce roots caused it to die. Things looked bleak (house had issues too). Then it hit me—work with the acidity and shade rather than against it. Since then, I collected rocks from trails, expanded the rock bordered beds, encouraged the growth of moss along the paths, sought shade and acidic soil loving plants, and cut more tree boughs to include sun loving perennials. I have a year-round compost pile and make my own soil with the help of hard working worms. Now my garden is my favorite place to be!
---
7. Address: ​JMGR
​Host:

When this home was established 30 years ago, the location was a dirt road, and the small yard was bare of caring. A blank canvas. Introduction of plants from the greater environment along with nursery purchases and gifts from friends began. The garden reflects the owner's appreciation of the many life forms that share this space with them. The owners have established several deciduous and evergreen trees, flowering bushes, patches of roses, collections of primroses, iris, indigenous wildflowers, ferns, devils club, and a vibrant vegetable garden. In addition, there are rock sculptures here and there, a small pond as well as a rock walk that mostly garlands the house.


​
---
8. Address: TRD
Host:

This garden and landscaped lot covers an acre sloping over thirty feet to high tide line of Smugglers Cove. When purchased in 2013, the yard was a moss-covered rock garden. Through a labor of love, it has been transformed into what you see today. This ornamental garden includes 30 Rhododendron, many varieties of Hosta, Primula, ferns, and beautiful flowering ground cover. The area adjoining is lush with evergreen trees, currants, and naturally growing vegetation. Plans are to complete construction on the lower half of the lot to include raised vegetable beds and stair replacement.



---