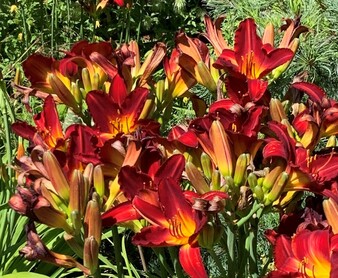 WE ARE HERE TO HELP YOUR YARD AND GARDEN GROW
Energy, a Permaculture PerspectiveClick here to read Susan Cable's article on Energy in the Garden from a permaculture Perspective and find out how to incorporate these ideas into your gardening technique.
Susan Cable is a Juneau/Thane gardener who earned a two-week Permaculture Design Certificate in Tasmania in 2009 and took the AMGA Permaculture for Alaska Gardeners class in 2020. Decades earlier she completed university degrees in crop science, plant breeding, and production horticulture. She knows just enough to know that she doesn't know much!
​
Master Gardeners and past Presidents of our organization
​Susanne & Sandy williams were honored on august 8, 2020
read about the award and see the pictures by clicking here


mission statement

The mission of the Southeast Alaska Master Gardeners Association is to develop Southeast Alaska's community of gardeners through education, hands-on learning, community service, and practicing the art and science of gardening.

Purpose
Welcome to Southeast Alaska Master Gardeners Association located in Juneau. The Master Gardener Program is a nationwide volunteer program that provides educational programs on horticulture topics.

Our Master Gardener volunteers are committed to providing the highest quality, research-based horticultural information and educational activities that enhance our community's environment, quality of life and supplement the University of Alaska Cooperative Extension Service Master Gardeners Program. We offer activities for new and experienced gardeners, from classes and workshops to garden tours and guest speakers.

SEAK MG Events DATE & Time
Workshop

Click on the green links for more information!

Peonies October 21 7:00 pm
Root Cellars November 18 7:00 pm
No Meeting December
General Membership
Meeting & Elections January 21, 2022 7 PMWORKSHOPS & BOARD OF DIRECTOR MEETINS ARE THE 3RD THURSDAY OF THE MONTH VIA ZOOM. If date is green click on it for more information!

---

Spring 2021 Mini Conference

FROM THE CO-PRESIDENT: ​Jacqueline Fowler March 2021

Welcome to the southeast Alaska Master Gardeners Association website. We are a non-profit organization which extends educational opportunities for the Cooperative Extension Master Gardener Program at UAF.

2020 was a very unusual year for many of us and the SEAK Master Gardeners Association (SEAKMGA) was no exception. We started out our SEAKMGA year planning for a large gardening conference at the Juneau City and Borough Centennial Hall. We booked and paid for the Hall, selected vendors and committed our presenters. Unfortunately, Covid-19 and the announcement to quarantine derailed our efforts for a face-to-face conference and dashed all previous plans. We adjusted to the new reality with the help of Darren Snyder at the University of Alaska Fairbanks (UAF) extension and switched our face-to-face conference to a virtual conference via Zoom. The virtual conference was well attended and occurred without any glitches. A special thank you to Ed Buyarski for shouldering the bulk of the planning and organizing the presenters. In addition, to our virtual conference, several monthly, volunteer speakers presented an area of expertise in 2020; all presented virtually and free of charge.
Our Garden Tour for summer 2020 was in the Valley and Out the Road on July 25 and with Covid-19 curtailing many activities, we were fortunate to offer a successful tour. Everyone wore masks, social distanced and from all accounts had a great time. A big thank you to Pat Hartman, former SEAKMGA president and Kristi Hooton, current board member, who organized and coordinated the 2020 Garden Tour. We appreciate the time and effort of all the docents, who generously contributed their time and expertise, as well as the homeowners, who graciously welcomed all visitors to tour their gardens.

Among the other activities of the Southeast Alaska Master Gardeners Association this year, we honored two Juneau Gardeners, who have been active in the Juneau community for many years and one well known horticulturalist, who made significant contributions to the Juneau community and gardening.

For Sandy and Susanne Williams, former Master Gardener board members, we presented a plaque during a masked and social distancing ceremony. The plaque is placed at the Juneau Community Garden honoring their contributions. Former SEAKMGA board member Kristine Kosnik, and current board member Kristie Hooton, designed and brought this project to fruition.

The Master Gardeners also bought a Royal Red Maple tree and plaque in memory of Cindy Bowhay, in recognition of this kind and hugely knowledgeable horticulturist, who contributed immensely to the gardening community. The tree has been planted and placed at the Juneau Arboretum. Ed Buyarski shepherded this initiative.

For the upcoming 2021 year, we have some wonderful activities planned. On March 19 & 20, SEAKMGA will sponsor a mini-ZOOM conference. This will be a smaller version of the conference we hosted in 2020. The SEAKMGA is planning an annual Garden tour for summer 2021 as well as additional gardening workshops. Please watch this web page for updates.

---

GARDENING HAPPENINGS

Links

Click here

to find more information about organizations, local growers and garden businesses in our area and around Alaska
---